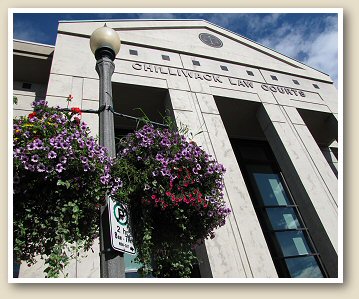 "THEY'LL HAVE TO GIVE IT BACK EVENTUALLY"
- Published in the Vancouver Sun, October 09, 2002

A Chilliwack man had hoped to make Canadian history Tuesday by going to the Hope RCMP detachment and picking up 51 marijuana plants and four grow lights that had been seized in a drug raid.

He recently received approval from the federal government to grow and possess up to 1,875 grams of pot for medicinal purposes.

Defence Lawyer Dale Pedersen, had received a phone call from the Hope RCMP's exhibit custodian saying they could come and pick up the items seized in the raid, including the plants, lights, a small container of pot and a pot pipe. The Chilliwack man said he believes the return of the plants would be the first time the RCMP had returned pot plants to growers.

But when he showed up with a group of supporters and several members of the media Tuesday morning, he was told the release of the material had to be okayed through Health Canada, which might take a day or two. He was dismayed that his 15-month ordeal over the plants had been extended.

"Justice delayed is justice lost, I feel," he said. "I know they'll have to give it back eventually. I just can't believe they're delaying this another hour, day, minute. It's absurd. It's immoral. And it's going to change."

Hope RCMP Staff Sergeant Jim Delnea said police tried to contact the Chilliwack man Tuesday morning to tell him there were further complications before he would receive his pot back, but he was already en route to the police station. Sgt. Delnea said that given the nature of the exhibits to be returned, he wanted to make sure of the process before releasing them.

"This is a new area that we're into, and before I end up making a decision as detachment commander on returning those exhibits, I'll make sure that Health Canada gives us appropriate guidance," he said. "There's lots of questions to be asked. We are talking to our department of justice prosecutor to see what their position is on it, as well as Health Canada."

The Chilliwack man said he smokes high-grade marijuana every day to deal with a number of ailments, including HIV, hepatitis C, glaucoma and chronic pain. He applied for a licence to grow medicinal marijuana for his own use in 1999, and got approval to do so Sept. 9, 2002. He was growing pot in a friend's shed in Hope when the police raided the operation and seized the plants and grow lights in July, 2001.



With his supply of marijuana cut off, he founded the Holy Smoke Healing Center marijuana compassion club in Chilliwack to supply the needs of medicinal marijuana users like himself.

He said he has spent up to $537 in one day on the high-grade pot that he needs for his ills.

He said he expects his pot plants to be dead when he gets them back. If so, he said he may sue the RCMP over their loss.